MANY

THANKS TO OUR CUSTOMERS

We are a Czech security agency and have been offering complex security and cleaning services since 1995. Thanks to you, our customers, we have been on the market for 28 years. We would like to thank you for all your trust that you have given us during our cooperation. We are aware that our successes are the result of mutual respect and fair relations.

We would also like to thank our employees, because our successes are the result of their hard and quality work. Our customers are very demanding.

Since 1995 we have accumulated a lot of experience and today we can boast more than 600 satisfied customers. We have more than 2,500 professional employees and the turnover of D.I.SEVEN, a.s. exceeded CZK 1 billion in 2022. Every year we spend CZK 4,300,000 to support cultural, sports, charitable and social activities.

We owe the progress we have made in 28 years to our customers and employees.
Read: How did we start and where have we reached in 28 years?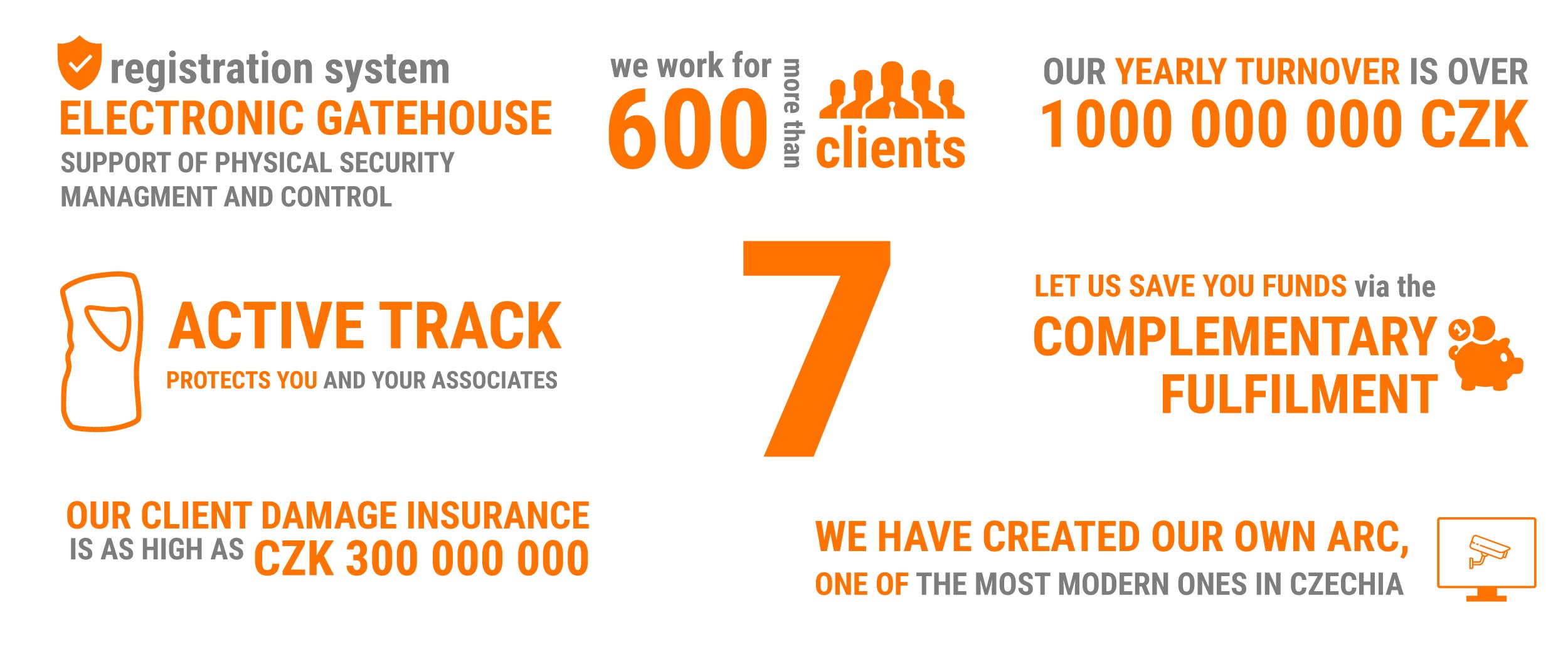 VIDEO: Electronic Gatehouse System
People and security technology
At D.I.SEVEN a.s. we are moving forward. We focus on the development of modern technologies. Among the technologies we use are our own centralized security console, Electronic Gatehouse, Active Track patrol system and other systems to support building security. We are also developing our own CRM system for order management and control.

However, no technology is a substitute for well-trained personnel who perform all security measures. The solid foundation of a security system is physical security.

Thanks to our long-standing presence in the market, we have gained invaluable experience and expertise that allows us to offer a wide range of services tailored to the specific needs of each customer.
Our company specializes in providing professional security services for B2B clients. We secure large logistics sites, manufacturing facilities and commercial buildings for our customers. These are the most demanding security contracts that we take care of in the form of physical security. Our security systems are always tailored to the specific needs of each customer. Thanks to the development of modern technologies, we support physical security with security technologies. We believe that quality and professional services are the key to success. We are aware that our customers are primarily concerned about the safety of their property and employees, and therefore we strive to meet their requirements to the maximum extent.
We support those in need
Our company has a strong affinity for culture, sport and the support of those in need. We do not shy away from financial support and social responsibility.
Every year we provide financial and material support to those in need
The funds go straight into the hands of those who need them
We help children, animals, handicapped and athletes
Thanks to our activities, since 2004 we have been sponsoring one of the largest cultural events in the Czech Republic, the International Film Festival in Karlovy Vary.
OUR

SATISFIED CUSTOMERS

Thanks to mutual respect and long-term cooperation, we have built fair relationships with our customers. Customers appreciate our quality work.
In the Czech Republic, more than 600 clients use the services of our security agency. We are proud that our clients have been working with us for many years. A team of 2,500 employees ensures the best possible service today. We would like to introduce you to some of our clients here.