VIDEO: Cleaning services in real-life
Cleaning services on a professional level
The offering of D.I.SEVEN cleaning services spans wide. Various cleaning works are performed with respect to our clients´ individual requests and wishes. Due to a high number of associates working in our team, all the cleaning works can be covered in a reliable and continuous manner.
We perform the cleaning services on a high level with focus on quality, so that you can always rely on us. Any suggestions and requests from your side are being immediately and flexibly addressed. We perform cleaning with environmentally friendly detergents, modern cleaning equipment and high-tech machines.
We provide exterior and interior cleaning services, every day, as well as ad-hoc. We clean offices, administrative buildings and premises, companies and commercial building, manufacturing and technological halls, underground garages or cultural and sport events.
7 reasons why CLEANING SERVICES from D.I.SEVEN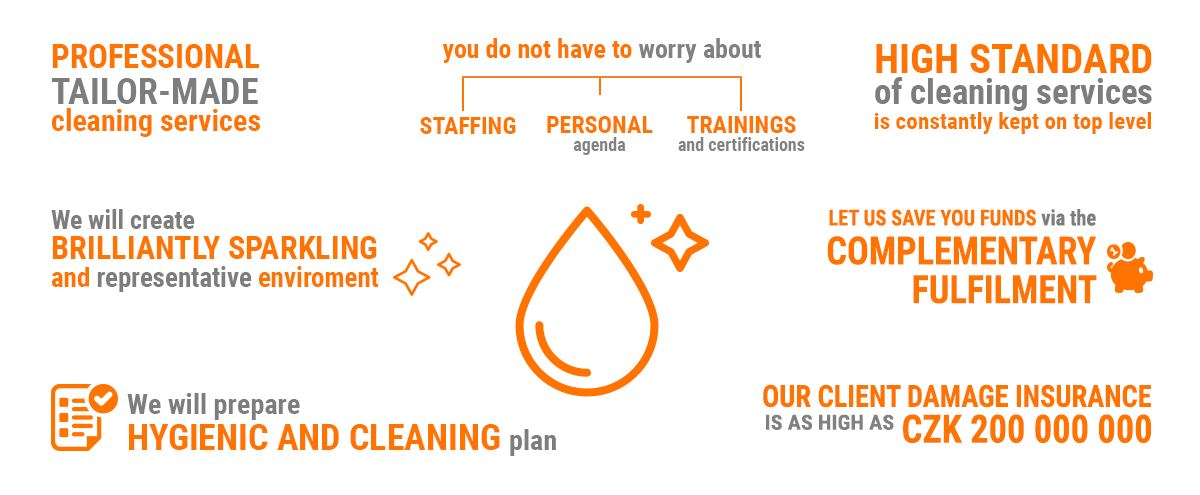 VIDEO: Hygiene and cleaning plan
Hygiene plan exactly according to norms
Our experts will prepare a hygiene and cleaning plan based on your requests, in order to keep all your premises spotless. Regular audits and adhering to the plan will provide tidiness in any building or premises. Our experts strictly follow the hygiene regulations, based on which they will suggest the most economical solution that will be fitting your needs.
We adhere to the legislation
Regular audits and documentation of cleaning is part of the cleaning plan, as stated by the Occupational safety and health regulations. You do not need to worry that processes on your premises were performed in dispute with the legislation.
VIDEO: Cost optimisation with D.I.SEVEN
You will be saving money with us
We consider economical solutions and thrifty handling with your funds an integral part of our provided services. In addition, our associates adhere to a hygienic and cleaning plan, which standardises the usage of the cleaning equipment and detergents.
Responsible expenditures
The D.I.SEVEN cleaning service not only ensures that your premises are perfectly clean and tidy, it also makes sure that your cleaning expenditures are optimised to exactly fit the respective premises. This is the reason why we make regular self-audits in the course of the cleaning process and why we keep documentation.
VIDEO: Cleaning services in real life
First class cleaning services
We will create clean and representative environment at your premises.