VIDEO: Facility management in real life
Complex property management
We offer a full service while managing buildings and properties. Our aim is to optimise expenses on energy, management and maintenance of technical equipment or necessary repairs. We provide all the necessary administrative economical services, as well as commercial processes that relate to property ownership and property management.
We provide complex and tailor-made services to our clients. We process operating rules, keep project and operating documentation, as well contract agenda according to the valid legislation. We also offer controlling and consultancy activities, trainings in work and fire safety and we are able to provide ecological waste disposal. We also offer complementary fulfilment to our clients.
7 types of buildings that we take care of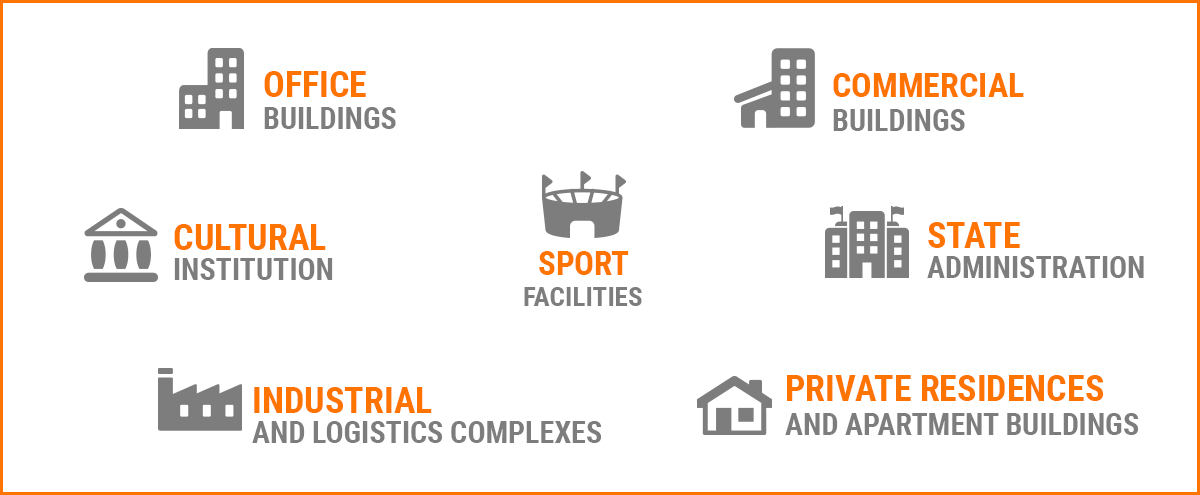 Real

estate management and everything that goes with it

A full-service real estate management is provided as part of the Facility Management and Property Management. We manage supply chains, technical and energy building management, security, cleaning, as well as asset management in administrative and accounting. We run revisions of technical equipment and make sure that deadlines and the latest legislative regulations are adhered to. You are going to obtain regular reports on all types of services, so that you have the entire building management under control.
Objects falling under our real estate management and building maintenance
In terms of the facility management, we focus mainly on these kind of buildings:
administrative and state-owned buildings
industrial premises
commercial buildings (hotels, retail, cultural, entertainment, sport centers)
residential building (residences, apartments)
Facility management and property management scope
Complex real estate management, asset management and building maintenance encapsulate the following services:
Building management and maintenance
technical management of building
maintenance of technical equipment
revisions and servicing in accordance to the latest legislation
audit planning
post-warranty servicing and maintenance
emergency service (arrival guaranteed)
professional technical inspections
passporting of technical equipment
energy management
warehouse management
waste management
Asset management
development of operating rules
developing and keeping documentation on technical equipment
processing and upkeeping of key management
legislative audits and trainings on occupational safety and health
representing client in dealings with third parties
accounting
administrative management
it technic operation
real estate operation
cost optimisation
Further infrastructure services can be utilised, in order to support the optimal functioning of your company:
building security
reception services
alarm response center (ARC)
indoor and outdoor cleaning services
replenishing of hygienic program
groundskeeping
Familiarise yourself with the advantages of facility management.
You hereby acknowledge that by completing and sending this form, D.I.SEVEN is going to keep your contact details and other information you provide, in order to create a business offer and to send you other business-related communication. You can unsubscribe at any time."