We provide security
services
physical protection of people and posessions, including event security

We offer professional cleaning service
on small and large premises, professional cleaning service

We offer a remote monitoring ACR
thanks to a connection to our ACR, we will protect your posessions 24/7
7 reasons of why using D.I.SEVEN services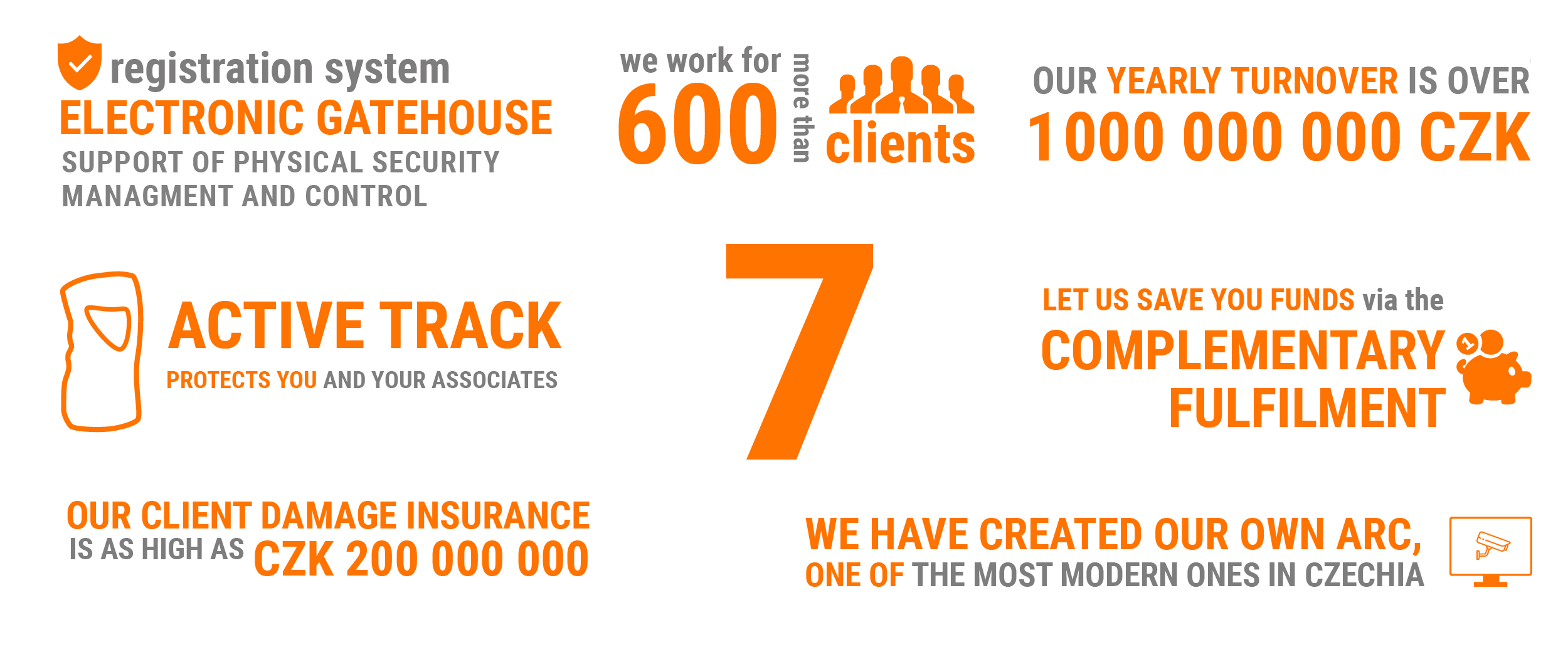 VIDEO: Security services in real life
Security services from D.I.SEVEN. This means reliability and comfort for you!
Security services are our main specialisation. Due to a strong background and country-wide scope, our security agency offers you professional services that fulfil specific needs of every organisation or natural person.
We design the security services with respect to our clients´ needs and based on an analysis of security risks. We are able to secure premises, persons and possessions anywhere in the Czech Republic for you. We dispose of years-long experience in all security areas and services and our regular clients are the best proof of our exquisite capabilities.
VIDEO: Cleaning services in real life
Cleaning services on a professional level
The offering of D.I.SEVEN cleaning services spans wide. Various cleaning works are performed with respect to our clients´individual requests and wishes. Due to a high number of associates working in our team, all the cleaning works can be covered in a reliable and continuous manner.
We perform the cleaning services on a high level with focus on quality, so that you can always rely on us. Any suggestions and requests from your side are being immediately and flexibly addressed. We perform cleaning with environmentally friendly detergents, modern cleaning euipment and high-tech machines.
VIDEO: Facility management in real life
Complex property management
We offer a full service while managing buildings and properties. Our aim is to optimise expenses on energy, management and maintenance of technical equipment or necessary repairs. We provide all the necessary administrative economical services, as well as commercial processes that relate to property ownership and property management.
We provide complex and tailor-made services to our clients. We process operating rules, keep project and operating documentation, as well contract agenda according to the valid legislation. We also offer controlling and consultancy activities, trainings in work and fire safety and we are able to provide ecological waste disposal. We also offer complementary fulfilment to our clients.
 
MANDATORY RATIO of persons with disabilities (PWD): Companies with 25+ employees
Mandatory ratio can be fulfilled in following ways or their combinations.
4 % employment of PWD
Usage of services as part of the alternative fulfilment for 1 PWD:
7 x 39 306 CZK = 275 142 CZK
State levy for 1 PWD:
2,5 x 39 306 CZK = 98 265 CZK
What is alternative fulfilment?
Alternative fulfilment is an optimal way to satisfy the mandatory ratio for all state-owned and private-owned companies with 25 employees or more. Alternative fulfilment can be carried out in cooperation with a company that employs more than 50 % of people with disabilities.
Alternative fulfilment with D.I.SEVEN
For the alternative fulfilment, we recommend the services of our subsidiary company D.I.SEVEN FACILITY s.r.o., which specializes in providing complex maintenance and cleaning services of premises. It has rich experience in employing people with disabilities and their share exceeds 50 %, which is the legal condition required for providing alternative fulfilment.
You hereby acknowledge that by completing and sending this form, D.I.SEVEN is going to keep your contact details and other information you provide, in order to create a business offer and to send you other business-related communication. You can unsubscribe at any time."