ELECTRONIC

GATEHOUSE SYSTEM
Effective solution for smoother operation at gatehouses and receptions
It is a system for supporting the security service workers at the building, the property and the guards at the entrance to the building.
The electronic gatehouse is a unique information system that digitally stores important paper documents and simplifies work processes at concierges and reception desks.
electronic registration system of the gatehouse operation
autonomous system independent of the client´s systems
the data is safe in transmission and storage
7 reasons to use the electronic gatehouse system
Digitising and using modern technology, an innovative approach to corporate governance
Building a brand, making your image more attractive for clients and partners
Better quality of caring about the visitors
Increased work efficiency and faster check-in at the gatehouse/reception
Better awareness and control over the course of actions at the gatehouse or reception in real time
Safely stored data, access to the system at any time and from anywhere
No more unnecessary "paperwork" and document storage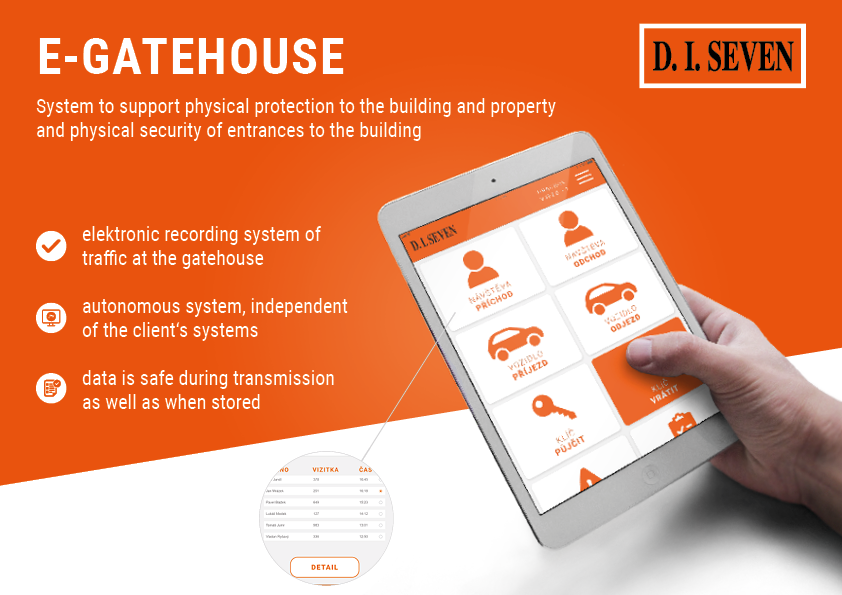 Here, you can download the presentation material about the unique electronic gatehouse system: Electronic gatehouse
VIDEO: Electronic gatehouse system
Main functions of the evidence system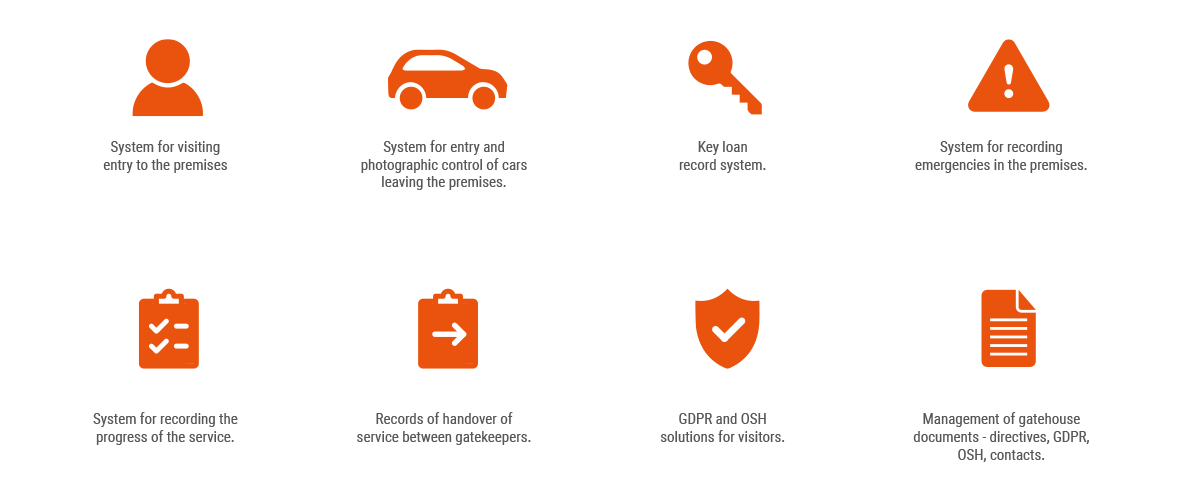 How does the electronic gatehouse work?
Our concierge or receptionist performs the standard work tasks using a tablet or a smart phone and the electronic gatehouse application.

Thanks to the intuitive operation, it simply records the registration of visitors, key handovers, emergencies or the handover of service duty to a colleague.
Simple operation
Ability to take photos and store them directly in the system
Overview of the gatehouse/reception operation in a few clicks
Faster visitor check-in and request handling
Increased efficiency in the performance of service duties
Access to the system
The electronic gatehouse system operates via website interface – it is accessible from a computer, tablet or smart phone.
The e-gate app can be accessed by persons according to the granted user rights:
Managers
Security guards/gate keepers/receptionists
Customers
Security of data and their transfer
SSL/TLS Certificates
Using the SSL/TLS certificates, the communication between the tablet and the server is encrypted and thus cannot be monitored or modified along the way. This ensures that the data transmitted to the server cannot be accessed by unauthorised third parties.
HTTPS
At the same time, using HTTPS ensures that no unrequested content or harmful code is inserted into the system.
Physical safety of data
Data is stored on servers in the data centre. Physical and technical security of the premises and data backup is ensured.
Device authorisation
A user with "gatekeeper" access rights can log into the system only on an "authorised device". With the "gatekeeper" access rights, the system cannot be launched on an "unauthorised device".