For

the media
Are you interested in D.I.Seven?
Are you a journalist who is interested in information about the company D.I.Seven? If you have any questions, contact us and we will gladly help you. You can find more information in press releases, the news and the section They Wrote About Us.

E-mail

Telefon

Graphical resources
bellow you will find the logo and photos

At your request, we will gladly send you our logo in the format of your choice.
Our logo is available to download in the format AI.
Color definition:
orange - Pantone  021 C
black - (0,0,0,100)
The basic logomanual is available to download in the PDF format.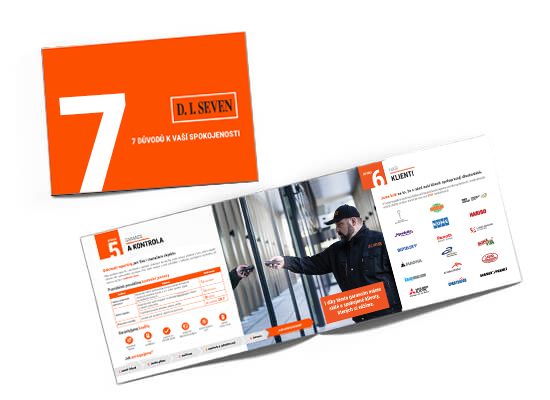 In our catalogue we introduce 7 reasons why you should choose us. At your request we will gladly send you the catalogue to your company's address. Just email us at praha@diseven.cz.
For example, you will find out:
About our solutions tailored to your requests.
About our modern technological equipment that we use within the framework of our security services.
About our trained employees.
About all the services we provide.
About our clients.
About our activities within the framework of support and social responsibility.
You may use these photographs in an unchanged format for propaganda purposes for the company D.I.Seven. At your request, we will gladly provide you with the printed form.
Photos
You can use these photos unaltered to promote the D.I.SEVEN group. We will be happy to provide them in print quality on request.