7 reasons to choose D.I.SEVEN security sevices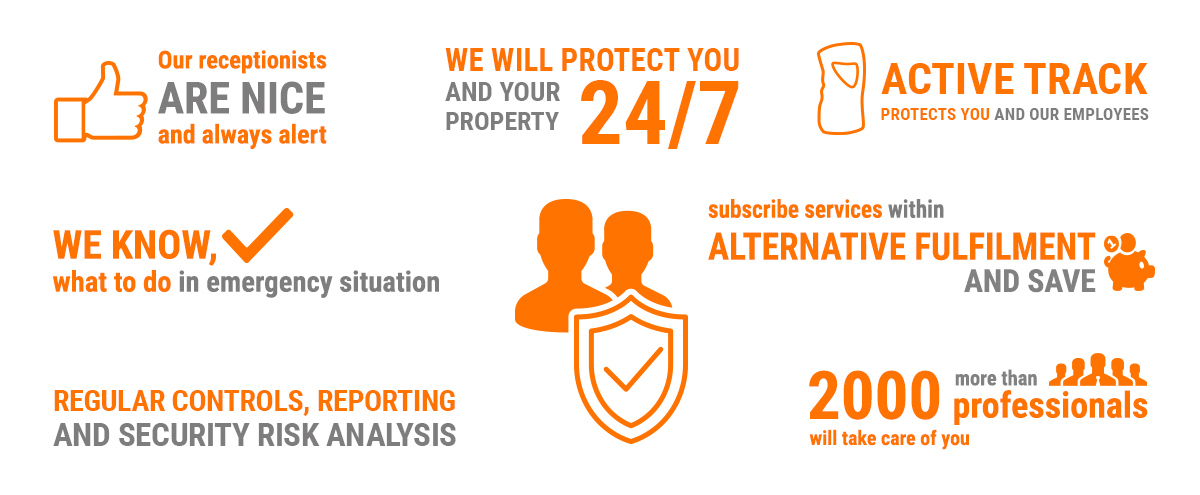 Building

security services
VIDEO: Fyzická ostraha v praxi
Prevent risks with security services
Our security services provide for safety measures that are intended to prevent any risks and physical harm.
We will prepare a security service plan according to your requests including the frequency of patrol rounds. In our work, we cooperate with the Police of the Czech Republic.

Our main services include:
Securing people and property
Preventing thefts and vandalism
Monitoring of security cameras
Reception desk services and gatekeeping services
Unique patrol system (Active Track)
Protection

of persons and property
VIDEO: Protection of persons and property
We will protect you and your property
We can prevent thefts and physical harm thanks to open-minded attitude and professional services of our employees who are always ready – no matter how the situation is complicated – to act in a way that prevents risks. You can always rely on the fact that they do their job thoroughly and promptly.
What we care about in our job:
Security employees care about people´s safety
They guard people´s property and all equipment of the given building
They coordinate crowds in events and provide information
They prevent common criminality
They are on alert in dangerous situations, and they react immediately.
Active

Track – patrol system
VIDEO: Active Track – patrol system
Overview from far away in real time
Active Track is a patrol system that was upgraded by the D.I.SEVEN security agency. It differs from other patrol systems in the fact that the sensors communicate directly with the ARC controlling so the operator is aware of the course of actions at the premises during security service shifts in real time.
Our employee sends an alarm signal to the ARC by clicking a single button. An instructed operator then launches a silent eavesdropping, contacts the building manager in question or calls a rescue unit or the Police.
An advantage of the Active Track system is that you are precisely aware of the fact if the building is guarded as agreed, we will be happy to provide you with patrol statements.
VIDEO: Reception services
Smiling receptionists always ready to step in
We provide day and night reception services especially in administration buildings and at gatehouses of large premises. We offer complex services that are related to managing a reception. Our reception service may be provided both by the security employees or specialists who are knowledgeable in foreign languages.
All our employees are warm, smiling people who are always alert. The services we offer include information service in the given building, telephone exchange service, reporting and documenting of visits, and, of course, handing over and collecting back keys from the client´s employees or distributing the post to its addressees.