Technical

management of buildings and real estate
VIDEO: Facility management in practice
Complex facility management
We provide a full service, associated with the technical management of buildings and real estate, in order to optimize the cost of energy consumption, management and maintenance of technological equipment or necessary repairs. We also provide all administrative, economic services and business processes related to property ownership and asset management, so-called property management.
We provide a full range of tailored services to our clients. We prepare operating schedules, we manage the project and operational documentation, as well as the contractual agenda always according to the applicable legislation, we offer inspection and consulting activities, training in the field of occupational health and safety, we provide ecological waste disposal. We also provide services to our clients within the alternative fulfilment.
7 types of building, we take care of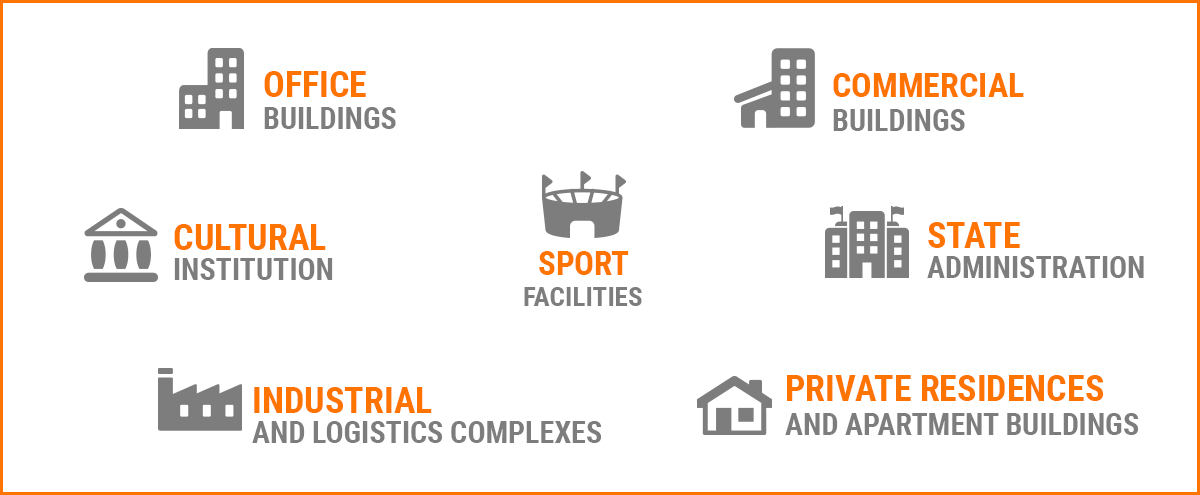 Our company within Facility Management and Property Management can also represent the client in relation to the third parties. In addition, we offer repair of facilities and technological equipment, project documentation management, preparation and maintenance of operational documentation, contract management, inspection and consultancy services, management and elimination of warranty defects, optimization of operating costs, regular reporting, Occupational Health and Safety, measures to prevent emergency situations, or ecological waste disposal.
Our facility management provides
Operation, maintenance and servicing of buildings and technological equipment
Warranty and post-warranty service - client representation and service evaluation
Regular revisions and professional technical inspections
Remote monitoring - connection of the building to the measurement and control system, including remote monitoring of faults
Continuous emergency service
Occupational health and safety activities - inspection activities by a fire engineer, PH and HP revisions
Regular annual planning of investments and repairs
Key management
Our services are suitable for:
Office, commercial and industrial buildings
Residential buildings (residences, apartment buildings)
Cultural institutions
Sports facilities
State administration buildings
Management

of facilities
Comprehensive and tailor-made facility management
Thanks to D.I.SEVEN, you do not need to worry about any unusual situation in the form of broken technical equipment, unmaintained common areas or the preparation of technical documentation for new equipment. Of course, there is a NON STOP emergency service, as well, ready to deal with any accident, including rescuing people from lifts.

Comprehensive facility management not only solves all of these areas for you, but also allows you to focus on your core business. Entrust yourself to the experts and contact your regional consultant.
Security

services
Professional protection 24/7
We tailor our security services not only to the needs of our clients, but also according to the security risk assessment in the given location. Of course, we also provide all security services as an alternative fulfilment. 
Our security services include not only physical security of property and persons and remote monitoring using our alarm receiving centre (ARC). Receptionist and concierge services, event security, fire protection and much more can also be requested. So you can rely that your business and your close ones will always be completely safe. 
Cleaning

services
Professional cleaning service
We provide comprehensive cleaning services for office buildings, production and technological halls, hotels and apartment buildings. We have a sufficient number of trained employees who will carry out professional cleaning without disrupting the activity and operation of your facility. Cleaning services can also be purchased within an alternative fulfilment.

Our cleaning staff is equipped with company uniforms, protective work gear, consumer chemicals and cleaning equipment. Their work is regularly and randomly checked to guarantee a perfect result of their work at all times.
Greenery

maintenance
Maintenance of indoor and outdoor greenery
Our company carries out regular as well as occasional maintenance of indoor and outdoor greenery. Thanks to our professional equipment, we can also maintain large areas or rugged terrain. We provide maintenance on facades, balconies and terraces, not to mention the adjacent surroundings of the building or parking lots. Even elevated areas or roofs are no problem for us.

Standard green maintenance activities include lawn maintenance, hedge and shrub maintenance, cleaning and maintenance of outdoor areas, summer and winter maintenance of roads and pavements, snow removal and of course disposal of all waste from our activities.
OHS

& fire protection
Safety and fire protection under control
Every building with a large number of people should meet specific requirements for security services. Each facility should be equipped with fire protection (FP) and ensure all work processes are in accordance with occupational health and safety (OHS).
We will provide all of these services to you in accordance with the most up-to-date legislation. You can also take advantage of our consulting activities in the areas of occupational health and safety and consult with us the most optimal solution. Not only can we provide you with inspection activities and staff training, but we can also provide you with workplace equipment in relation to the prescribed documentation.